Following part 1, still, there are many exotic dishes that as a foreigner, you may not want to miss the chance to taste them. In this post, I'm continuingly sharing more five other challenging dishes that you might meet when you visit Vietnam.
Snake Dish (Thịt Rắn)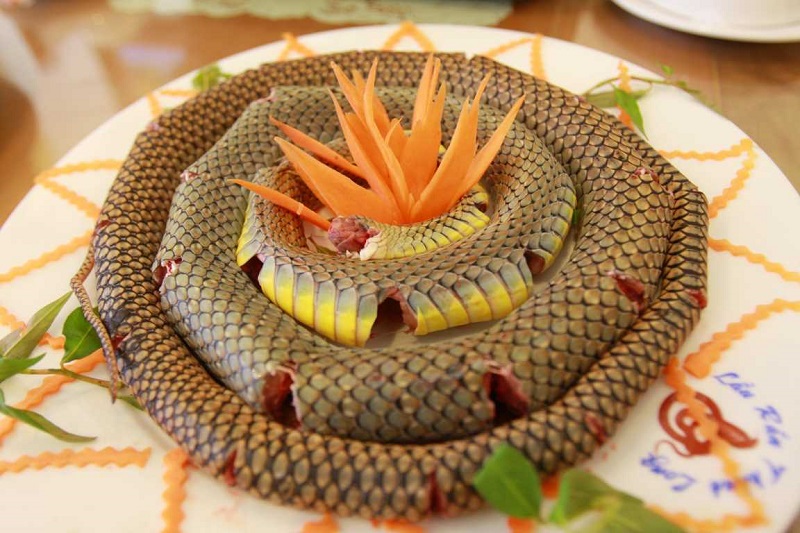 To be honest, when the first time I saw chefs were doing the snake, I'm terrified and look away because the outside of the snake makes me feel awful. However, if you dare to try once, definitely you want to eat more and more. In Vietnam, chefs just take some kinds of snakes to use as food such as the Chinese cobra, Banded krait, and Chinese rat-snake. The meat of the snake that Vietnamese cook could do everything. They could be grilled it with forest herbs, fried snake, or even hotpot they also put it in. At the North, to challenge the youths, the Vietnamese elders often dare them to drink a shot that combining the blood of the snake and the wine together. Because the smell of that drinks is not suitable for everyone, thus if you have guts, just try it once.
Peanut Worm (Sá Sùng)
Looking at the appearance of the peanut worm, I bet you will afraid for the first time see it. But don't judge it so soon, the taste of them is so special and hard to stop if you try it once. The shapes of the peanut worn just like other worms, but the size is more prominent. Their innards mostly are sand because their living environment is from deep underground caves. In Vietnam, chefs use for food, and they often grill peanut worm – eat along with the sauce is made from chili, salt, and lemon juice. After I have experienced about it, the taste is very unique, the meat of it is crunchy but also soft at the inside.
Fried White Cricket (Dế Cơm Chiên Giòn)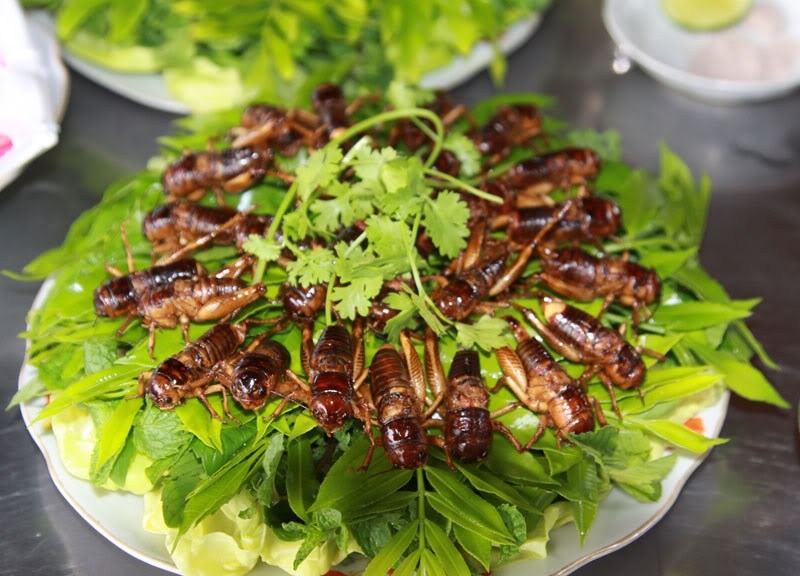 Is one of the favorite dishes of Vietnamese people,  fried white cricket mostly used with beer or wine in Vietnam. In Vietnam, people believe that the meat of cricket could cure some sickness like aches, obesity, and Rheumatism. The reason to call white cricket is white just because their legs are white and they are much more delicious than other common cricket. It could be eaten with some herbs such as lemon leaves and chopping pork.
Vietnamese Fermented Pork Roll (Nem Chua)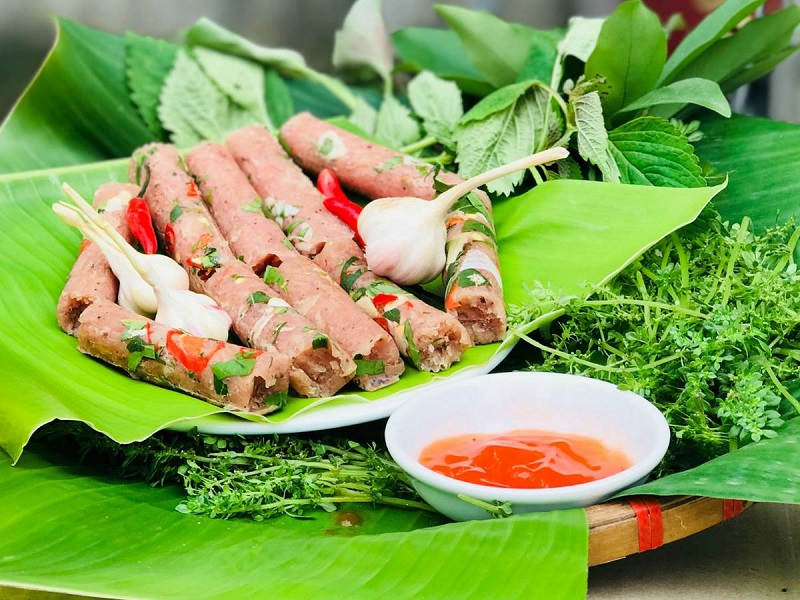 Nem Chua is a dish that many people in Vietnam lovin' it. To make Nem Chua, chefs will put fresh pork with "thính" (is a spice of Vietnamese – made by blended toasted rice), chili, garlic, and other common spices. After fermenting about three days, this dish is ready to serve. You can eat this dish while drinking with your friends, and I'm sure that your conversation will take a whole day and night because of Nem Chua. Nem Chua appears at many places in Vietnam, especially in the food stalls or street vendors. Some Southeast Asia countries also have similar dish as Nem Chua (Same tastes and smell). There is Som mou – a local dish of Laos or Naem (nham) is from Thailand.
The Vole (Chuột Đồng)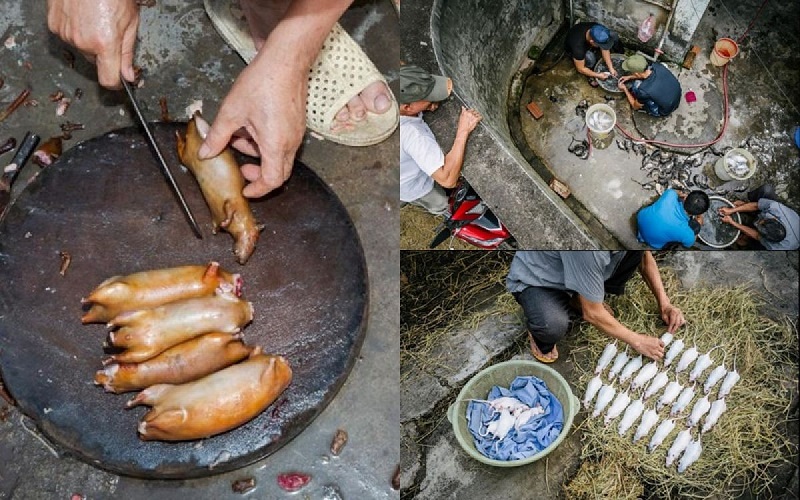 A vole has a more straightforward meaning; you can know it is a field mouse that their leading food comes from paddy. However, for a long time ago, poor people faced with this creature, and it destroyed the farm a lot. Understanding the food of the vole consumed, farmers in Vietnam confidentially to consume them as a dish of Vietnam. Chefs will burn the vole in the heaps of straw so that the fur could be removed. For this creature, you can see over 20 dishes about the vole such as steamed mouse with lemon leaves, stir-fried mouse with garlic, fried vole with salt, etc.
Conclusion
Overall, come to Vietnam, you could see lots of things strange and wonderful. Especially about the cuisine and culture that need you to discover all the time. Because Vietnam has a tropical climate so there still many mysteries that undiscovered. Follow my review to see my experiences about traditional cuisine and more.