If you are planning to explore a completely different world this spring, don't skip this thorough guide! During the motorbike trip from Hanoi to Mai Chau, you are wondering what you need to prepare, where you should visit, how much the trip costs, and other necessary tips. Don't worry anymore! Because this article is written for you guys! We came to Mai Chau on a day the white stunning flower blooming throughout the village. Located in Hoa Binh, Mai Chau is considered a peaceful northern village of Thai people with a most splendid vista of the valley surrounded by the lush green forests, fields and stilt houses. Visit Mai Chau once in your life, you will realize this place is a real heaven of pure air, untouched nature and fascinating tribal culture.
Our group departed from Hanoi at 5:30 am on Saturday, the sky in Hanoi was still dark, the street lights were still shining. Because this valley is only 140 kilometers from Hanoi, so we choose motorbike as the main transportation. Our route is Hanoi – Xuan Mai – Luong Son – Hoa Binh – Muong Khen – Mai Chau. We ride our bikes on Highway 6 passing through limestone monoliths, the craggy, mountainous landscape, comprised of small islands crowned with tall evergreen trees. As one of the most beautiful routes in Vietnam, this route allows you to contemplate the breathtaking panoramic view of Hoa Binh and Thung Khe Pass.
We arrived at Mai Chau at 12:00 because we stop many times en route to take a large number of stunning photos. From the Mai Chau flagpole, you will not get your eyes off the whole scenery of Mai Chau valley – a real paradise.
Best time to visit Mai Chau
In general, you can come from Hanoi to Mai Chau at any time of the year because the climate here is always temperate and pleasant. According to the suggestions of experienced tourists, you should visit Mai Chau from October to December when the white peach and plum flowers in bloom create a picturesque spectacle all over the place. Besides, when the March and April come, Ban – a typical flower of the mountainous areas in northern Vietnam brings a pure white to cover the whole Mai Chau. The breathtaking views here will make your heart be melted to soft and gentle.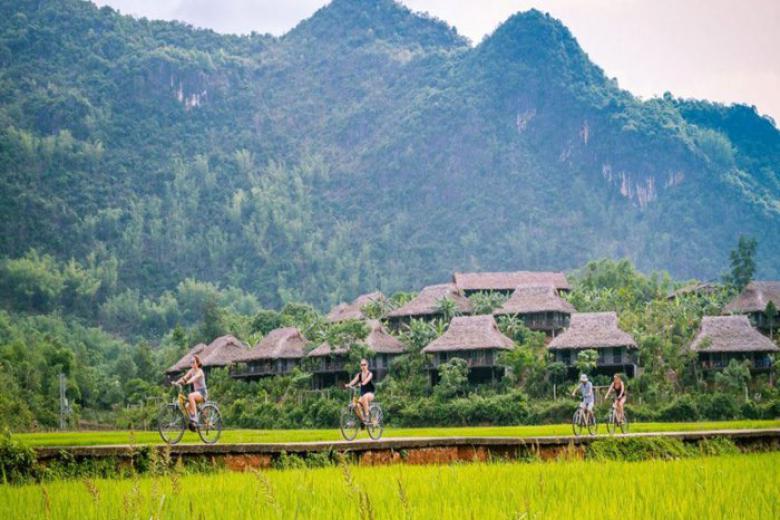 Accommodation in Mai Chau
To save money and experience the rhythm of local life in Mai Chau, numerous visitors choose homestays or guesthouses as the most ideal option. However, there are also luxury resorts in Mai Chau to meet the different requirements of tourists.
The stilt houses in Mai Chau are mainly concentrated in Lac and Poong Coong villages of White Thai people. Each house can be accommodation for about 40 – 100 people, providing basic belongings like blankets or pillows. The average price is 50,000 VND per night. However, if you require a single room, you need to pay for around 200,000 – 300,000 VND one night.
Below are my suggestions about the best stilts houses in Mai Chau:
Hien Hung Guesthouse – Ban Lac, Mai Chau: $20 per room with a tranquil and peaceful atmosphere, convenient for exploring Ban Lac and surrounding places.
Stilt House No 24 – Ban Lac 1: $17 per room, clean and airy space with various options for you to choose from.
Minh Tho Stilt House – Mai Hich, Mai Chau: $17 per room. The owner is very friendly, hospitable, and their dishes are not only delicious and tasty but also very cheap.
Mai Chau Farmstay – Lac 2, Mai Chau: $13 (or more) per room.
Mai Chau Nature Lodge – Na Phon Village Road, Mai Chau Town: $12 per room.
What to eat in Mai Chau
In Mai Chau, you can opt for well-decorated restaurants in the town center or enjoy your meals on your stilt house. They service enthusiastically with the flavorful dishes which bring the local breath of Mai Chau. The must-try dishes include grilled stream fish, Bamboo-tube rice, vegetables, bamboo shoots, etc.  Each set costs about 50,000 – 70,000 VND – a reasonable price.
Visit Lac, Poom Coong and Nhip villages in Lai Chau
Cross the Lac bridge, we came to Lac village – a more than 700-year-old village. You will have a chance to find your true feelings, to live yourself with peace and quiet quiet space of the old stilt houses. After a long and tiring trip, we decided to take a rest here and enjoy the traditional dishes of Thai people. After that, at 14:00, we started our journey around Lac village. It was a very unforgettable memory, guys! When traveling from Hanoi to Mai Chau by ourselves, we were free to wander around and immerse ourselves in the pure and pristine nature. Take some splendid photos, chat with the friendly local people, learn how to weave brocade, and buy some souvenirs as gifts. Interesting and memorable, it was what I can say!
After that, we went to Poom Coọng village and rent the brightly colorful ethnic custom to wear and take photos. At the end of the journey to discover Lac and Poom Coong villages, our group chose Nhip village to rest. This village is peaceful and quiet yet a little bit bored. Each of us paid for 50,000 VND one night in the homestay here.
In my opinion, you should not overnight in Lac or Poom Coong villages, which are now much commercialized. However, if you want to explore the nightlife in Mai Chau, Poom Coong is an ideal choice. The average price for a room in a homestay here is also around 50,000 VND.
The next morning, we had a chance to enjoy a very tasty breakfast at the homestay. The owner cooked various famous dishes that bring fresh flavor and mountainous breath. We recommend having delicious meals in the homestays because the food here is clean and fresh. Our favorite dishes are stir-fried bees with sour bamboo shoots and grilled stream fish. There are also many other flavorful dishes of Mai Chau to fulfill your big stomach!
Continue the journey to Mo Luong, come back to Hanoi
The next destination is Mo Luong cave – a well-known tourist attraction in Mai Chau, which is opposite the Mai Chau Ledge. The entrance ticket is 40,000 VND / person, plus 10,000 VND for parking your vehicle. Then we continued our trip from Hanoi to Mai Chau to explore the hidden charm of this land by visiting Chieu cave. You don't need to buy tickets to contemplate this gorgeous cave. Coming to Chieu Cave, you will feel like lost in picturesque heaven with the numerous mysterious shapes and impressive colors. However, keep in mind that climbing here requires good physical health.
We ended the journey and came back to Hanoi at 15:00. Because if you go to Hanoi too late, the road might be dangerous to the drivers. Reaching Hanoi at 17:30, we brought different unique souvenirs with some bottles of forest honey as a precious gift from the Mother of nature. We hope that this article provides useful and informative experiences to you, guys! If you are planning a trip from Hanoi to Mai Chau by motorbike, feel free to ask us if you have any questions.
We – BM Travel Adventure – are a top-notch motorbike tour operator and motorbike rental in Vietnam. Annually, we have operated hundreds of off-road Vietnam motorbike tours, Vietnam dirt bike tours, Vietnam enduro tours from north to south (Northern Loop Vietnam, Northeast Vietnam Motorbike Tours, Northwest Vietnam, Ha Giang Motorbike Tours via Hoang Su Phi, Sapa Motorbike Tours, Vietnam motorbike tours on the Ho Chi Minh trail…), and also motorbike tours to the neighboring countries like Laos, Cambodia, Thailand. We are sure to offer visitors the best places to travel to matching their lifestyle for a fun experience and the most unforgettable motorbike tour.