Vietnam visa is a obligatory documents to Mongolian citizens, so they have to apply one. So how is Vietnam visa fees in Mongolia?
Thanks to good weather and beautiful landscape, Vietnam is now becoming an ideal destination day by day. In fact, Mongolian citizens in particular and foreigners in general come to Vietnam more and more, but unluckily, Mongolia is not in Vietnam Exemption list so they need to apply a visa. How much does it cost? This section will focus on Vietnam visa fees in Mongolia, with some kinds of visa.
View more:
Vietnam visa requirements for Mongolian citizens
How to Get a Visa for Vietnam?
Can you apply for Emergency Vietnam visa in Mongolia?
Vietnam tourist visa for Mongolian citizens
Vietnam business visa for Mongolian citizens
Vietnam visa extension for Mongolian citizens
In case you are not Mogolian passport holders, you should take a look at the table below to know whether your nationality is in table or not so as not to waste time and money when applying visa.
List of countries exempt from the visa to enter Vietnam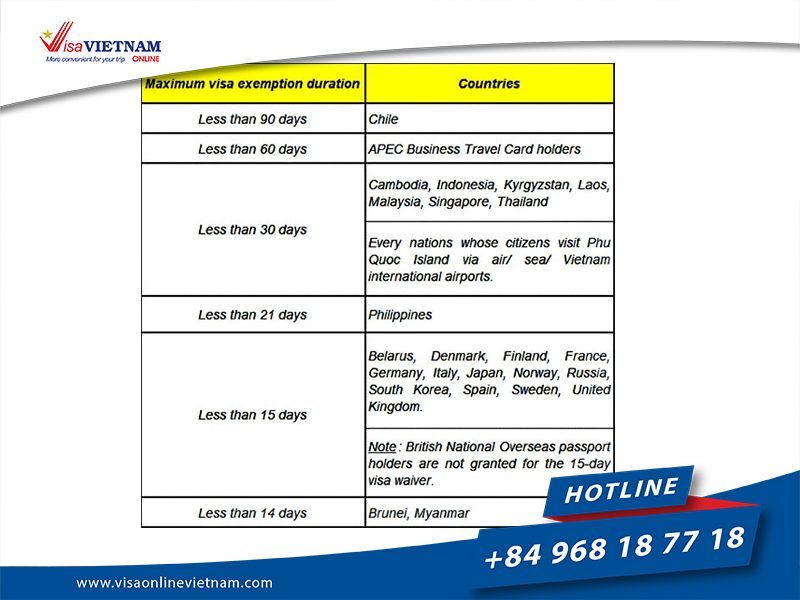 Before applying visa for both any purposes, you have to check carefully whether your nationality is in list or not, otherwise you will may lost time and money unreasonably.
How many type to get Vietnam Visa?
Before knowing how much is a Vietnam Visa cost, you should know that because there are 2 ways to apply for a Vietnam Visa so the fee is not the same.
Apply at Vietnam Embassy in Mongolia
The traditional way that people usually choose is going to apply at Vietnam Embassy in Mongolia. In this case, you have to prepare documents such as your passport, money and 1 new envelope with stamp on it and your exact home address in order to avoid losing issues (in case you apply by postal).
Vietnam Embassy in Mongolia
Address: Ench Taivny UrgunChulur 47, Ulan Bator, MONGOLIA – C.P.Box 670
Phone: (976) 145 4632
Fax: (976) 145 8923
Email: vinaemba@magicnet.mn
Vietnam Visa on arrival in Mongolia
One of the fastest and simplest options to get the Vietnam visa is to apply for the visa on arrival. This visa option is preferred by a lot of travelers for its time saving, as well as its all-around simplicity and fast processing. It is a fully legitimate alternative to applying for a full visa stamp at a local Vietnamese Embassy.
Visa On Arrival allow you to apply at home, because it is a way you get a Visa Agent obtain Visa for you. Just staying at home, doing some simple steps, you will get your visa stamped at Vietnam International Airport (such as Nha Trang, Hanoi, Ho Chi Minh City or Da Nang) in the day you land.
The application process for the Vietnam visa on arrival is is simply a process of getting in touch with a third-party travel agent or tour operator based in Vietnam and filling in the application form and paying fee to get a visa approval letter issued. This letter is sufficient to board the flight to Vietnam and is used to obtain the proper visa stamp on arrival at the preferred Vietnam airport. For more information, you can apply for Visa On Arrival in any third country.
Applying visa on arrival is simple, just need to follow these steps:
Fill out the Vietnam Visa Application Form with full name, passport number, date of birth, gender, nationality, date of arrival, type of visa… We recommend you applying soon before 10:00 am local time to be provided approval letter on the same day around 6:00 pm local time. When submitting applications after this time, you may get the letter in next business day.
Choose the option when you want to get visa and Pay for visa processing fee with credit/debit card. Click "BACK" to turn back the first step if there is any wrong information.
Receive an approval letter sent to you via email in working time. Time process will depend on your booking, and the instructions to get your visa stamped is sent in the approval letter also.
Note:
Your passport has at least 6 months validity and at least 2 left pages before going to apply for Vietnam visa
Visa On Arrival option is applicable ONLY for those who travel by air to Vietnam.
Vietnam Visa fees in Mongolia
Before knowing the cost, you should find out that V
ietnam visa fees in Mongolia has 2 types
:  Service fee and Stamping fee.
Service fee is paid for Visa Agent for their representation on behalf of you to apply with the Immigration Department to get the visa approval letter in time as your booking. You will get approval letter in 2 days with normal service and from 4-8 hours in urgent services, excluding weekends/national holidays (extra fee if you use emergency service).
Stamping fee is ruled by the Immigration Department and rates of stamping fee is publicly promulgate at any legal Governmental website and on the landing visa counter at any international airport. You have to pay this fee directly to the Immigration Department 's officer at landing visa desk by cash in both USD and VND and receive the red bill.
Vietnam tourist visa for United Arab Emirates
V
ietnam visa fee in United Arab Emirates
 for tourist can be counted by Service fee + Stamping fee. The fee below is just for reference, you should call us to know the detail fee.
1 month single: 
Single entry visa to Vietnam for 1 month (Quote per person in USD) will cost US$ 25 stamping fee.
1 month multiple
Multiple entries visa to Vietnam for 1 month (Quote per person in USD) will cost US$ 50 stamping fee.
Vietnam business visa online fee
1 month single
Single entry visa to Vietnam for 1 month (Quote per person in USD) will cost US$ 25 stamping fee.
1 month multiple
Multiple entries visa to Vietnam for 1 month (Quote per person in USD) will cost US$ 50 stamping fee.
When applying visa on arrival, you can also book extra service accompanied such as AIRPORT FAST-TRACK, CAR PICK-UP, HOTEL RESERVATION or TOUR BOOKING… to help your trip be more comfortable and convenient.
Need any further information about fee, please kindly refer Vietnam visa cost.
Applying Vietnam visa on Arrival, you can get your Vietnam visa in Ulaanbaatar, Ulan Bator, Erdenet, Darkhan, Khvod, Ölgii, Ulaangom or any cities in Mongolia. Let's apply visa at visaonlinevietnam.com!
***
www.VisaOnlineVietnam.com is operated by VIETNAM VISA SERVICE., Co. LTD VIETNAM with more than 18-years experience in visa service and 20-year in traveling arrangement. This website was set up to offer visa applicants the most convenient but cheapest services that meet the criteria of Quality, Safe and Secure; Reliability, Prompt Responses, Competitive Prices, and Customer-Focused Approach; save your time & money; Money back guarantees for declined applications.
Should you need any further information or have any problem with visa, contact us:
1 Floor, 56 Nguyen Cu Trinh Street, District 1, Ho Chi Minh City, Vietnam
Phone: +84 839 20 24 26
Hotline: +84 968 18 77 18 \ WhatsApp: +84 – 982 879718
Email: sales@visaonlinevietnam.com
Tollfree USA: 1866-278-6239