Are you looking for ways to travel around the north of Vietnam – the place with numerous beauty spots waiting for visitors to explore? With several years of traveling through various regions of the S-shaped land, including northern highlands, I must confess that for me, traveling by car is quite boring. What I want to explore are the newest and rudimentary things of this land. Regrettably, a car trip cannot fulfill my dream. And I'm sure there are only one means that can do this. They are powerful motorbikes on which you can take a cool ride to search for something new and exciting. 
That's all about the ideal means for Northern discovery. But for a memorable trip, it is still not enough. Besides a cool motorbike, you need to have a list of awesome places to visit in Northern Vietnam. Please scroll down not to miss any of them.
Mai Chau – the poetic land of Northwest Vietnam
Located in the majestic mountainscape of the Northwest land, Mai Chau valley has a cool climate and fresh air all year round. If you couldn't bear hot days in the summer, why don't you carry your backpack and immerse yourself in the pleasant space of Mai Chau? We recommend that if you want to have memorable experiences, you should ride a motorbike during the journey. Coming here, spend time exploring the destinations below:
Thung Khe Pass
Thung Khe Pass is well-known for its rugged terrain and natural beauty. The winding roads here are perfectly suitable for youngsters who want to challenge their driving skills.
Lac Village 
Traveling to Ban Lac in Mai Chau, you will also see colorful brocade stores. The people here are rustic, idyllic and hospitable. Besides, all the services here certainly will satisfy your needs.
Moc Chau – the memorable place to visit in the Northern trip
For motorcycle enthusiasts, Moc Chau is one of the must-see destinations. Considered the paradise of brilliantly-colored flowers, Moc Chau is certainly a good suggestion.
Na Ka Plum Valley
It is the most beautiful valley in Moc Chau. Na Ka Plum is outstanding with white plum blossoms. The valley becomes the most stunning in February, but if you want to participate in the harvesting and tasting the plum, then April or May is more suitable.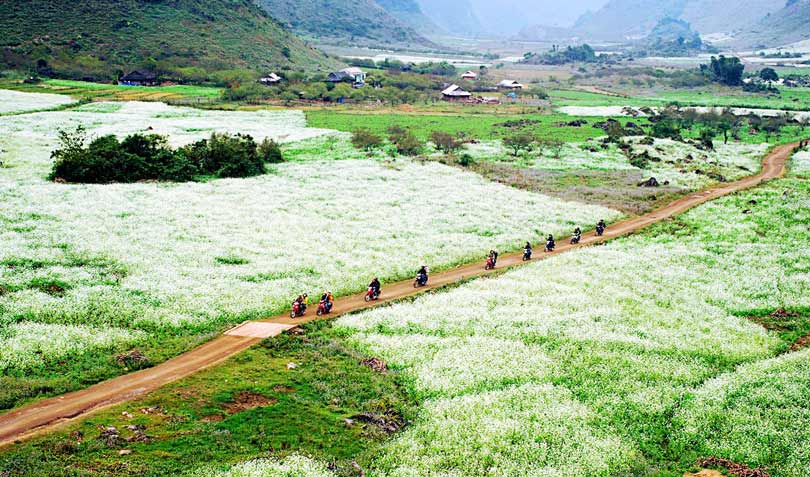 Pha Luong peak
With a height of about 2000m, the Pha Luong peak is the most attractive destination for those who love adventures. Standing on the top, you will see a cloudy sky and a breathtaking panorama of Moc Chau. It brings a great feeling when you stand on Pha Luong peak and immerse yourself in nature.
Mu Cang Chai – Golden fields for golden hearts
Mu Cang Chai is a highland district of Yen Bai province. Here Mu Cang Chai terraced fields attract a great number of tourists every year. If there is a flooding season in May, Mu Cang Chai will make visitors feel excited by the terraced fields stretching in the golden nursery. For a Mu Cang Chai expedition, the first thing you should keep in mind is to find out the route in advance. You should take a Vietnam motorbike tour to fully explore the beauty of the rice fields and the people here.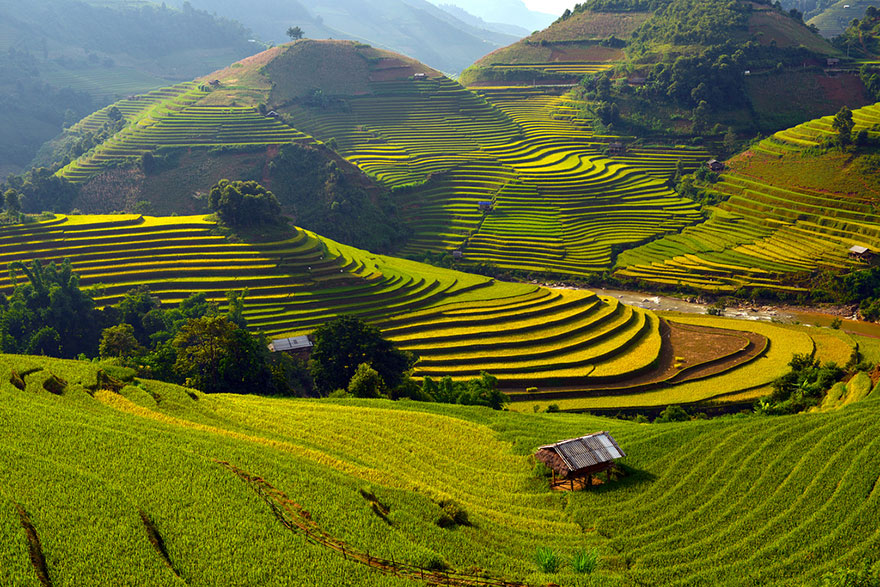 Tu Le Town
Considered a tourist destination not to be missed when traveling to Mu Cang Chai. Here you will admire the green and yellow terraced fields stretching as far as the eye can see. Coming here, you can visit Lung Thai and Lung Mong villages that are about 3km from the town. Along the way, you will see the stilt houses on both sides of the road.
Khau Pha Pass
This is one of the four great peaks of the pass in the North and the longest pass with an altitude of over 40km. On Khau Pha pass, there are often clouds covering the sky. The pass has various zigzag lines that look like scallops, which will definitely cause some difficulties for your riding.
Sapa – The mysterious beauty covered in the mist 
Sapa does not have thrilling games like Halong or Da Nang, … But I bet that you are still excited about it. This place has countless beautiful scenes, interesting activities for you to participate in. The foggy roads were born to test the ability of brave riders. Anyway, Sapa is a must-visit place in Northern Vietnam.
Fansipan mountain
Anyone who comes to Sapa wants to climb up this mountain. Fansipan Peak is located in the center of the Hoang Lien Son mountain range, the highest mountain in Vietnam. Coming here, tourists will admire the beautiful natural scenery. When conquering this mountain, visitors will feel very happy and proud of it.
Ham Rong mountain
Ham Rong Mountain is located only 3 km from Sapa town. Standing on the top of Ham Rong mountain, you can enjoy panoramic views of Sapa, Muong Hoa valley, and Ta Phin hid in the smoke. Currently, after the embellishment, Ham Rong is truly a fruitful landscape of Sapa. On Ham Rong, visitors seem to be lost in the fairy garden where the clouds cover the space and brilliant flowers bloom everywhere.
Ha Giang – the off-road challenge for ones who seek adrenaline surges
This land is bestowed with immense mountains, green water, colorful flowers, creating a picturesque landscape while the people here live a simple and rustic life. For these distinctive points, Ha Giang becomes one of the most famous tourist attractions in Northern Vietnam although the off-road paths here are also full of dangers, suitable for those who want to test their skills by taking Ha Giang motorbike tours.
Bac Son Slope
You will reach the Bac Sum slope while going from Minh Tan commune (Vi Xuyen) to Quyet Tien commune (Quan Ba). According to professional backpackers, this slope can be compared with the Pha Din pass of Ha Giang because of its ruggedness. What makes Bac Son slope more special is that looking down from the Slope, you will see a small winding road that is brilliant in the romantic sun of the mountainous land.
Ma Pi Leng Pass
Dubbed the "King of the passes in Vietnam", Ma Pi Leng Pass has a length of up to 20km. Located at an altitude of 1200m above sea level, this is seen as one of the most rugged roads in Ha Giang in particular and in Vietnam in general. 
For the final words
Did you feel excited thinking about those challenges? Are you ready to visit these places in the North of Vietnam? Don't hesitate to experience the uncut scenes that nature of northern Vietnam has to offer!