If Sapa is known for its enchanting beauty for hundreds of years, Bac Ha still remains unknown as sleeping beauty in the forbidden forest that is the home of myths about the historical legends, the "white plateau" among rugged rocky mountains, blue sky, and floating clouds. The best thing to make Bac Ha more and more well-known is the Bac Ha market, one of the two largest markets on the plateau. 
Bac Ha market is such a symbol of rare highland markets that still retains special features and customs of people in the Northern Highlands. Once you've traveled to Bac Ha, you must not miss this unique market. Or else, you will lose many interesting things mentioned below.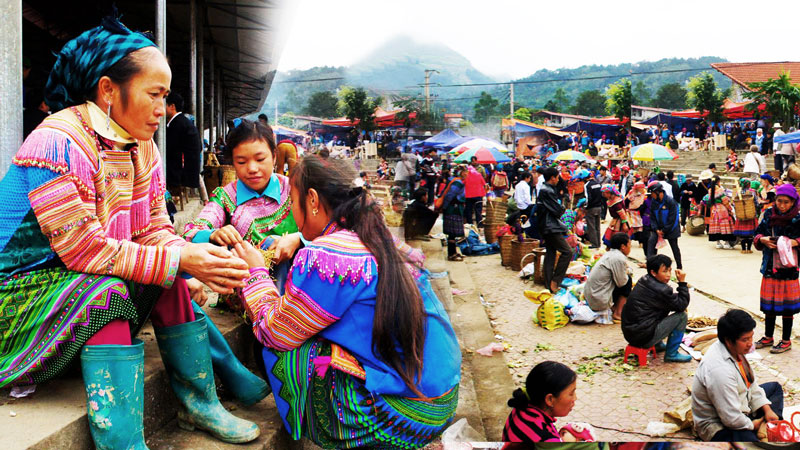 Where and when can you join Bac Ha Market
Bac Ha traditional market has long been a popular tourist destination in Sapa, which is a must-visit attraction for any visitor coming to Lao Cai.
Located in Bac Ha town, Bac Ha district, Lao Cai province, this market is about 65 km from the center of Lao Cai city. Coming to the Bac Ha market, travelers can choose to go by cars, motorcycles, or buses…However, the best way to sightsee the special market is by joining a motorbike tour in Vietnam. Nowadays, it is easy to find motorbike tours to Sapa which are carefully designed including a visit to the Bac Ha market. 
One thing should be noted is that this market only takes place on Sunday mornings. This will make your holidays more special if you come here at weekends. 
What to do in Bac Ha market
It is a long time since the Bac Ha market was last held on a pristine red ground. Now, it takes place on solid concrete with the traditional trading characteristics of highland people. Especially, no one solicits tourists to force a sale so visitors will feel very comfortable here. So what should you do when coming to the market? Please keep reading to know that. 
Make friends 
Bac Ha Market is not only for trading, but people also come here to have fun and find new friends domestically and internationally. This place is often highly recommended with good feedback from everyone who has ever come here. 
Explore the diversity of products 
It is not a difficult task for visitors to buy amazing items here. In the Bac Ha market, there are separate quarters selling different items such as food, brocades, birds, horses, and forged products. As the largest market in the Northwest of Vietnam, nearly everything that visitors want to buy is available in this market, from clothing to poultry, cattle, food, farm tools. So, you don't need to pack the whole world before the trip anymore. Just come here and buy what you miss in your house. 
Do not forget to bring Northwest specialties as gifts to your home. The most popular items here are fruits, wine, ethnic jewelry, brocade dresses, and seedlings. Don't miss the area selling jewelry and rattan. Brocade products for sale here not only imbued with the ethnicity of the Mong, the Red Dao people but also have high artistic value.
Besides the brocade market, buffalo and horse markets are always in the bustling atmosphere whenever the markets are held. Every Sunday, every week, many kinds of buffalos like white buffalo or black buffalo varying in sizes are collected here. Curious travelers should look over. In the horse market, you can choose a healthy horse and deal with the sellers to get yours at the best prices. Don't worry since the local people are friendly.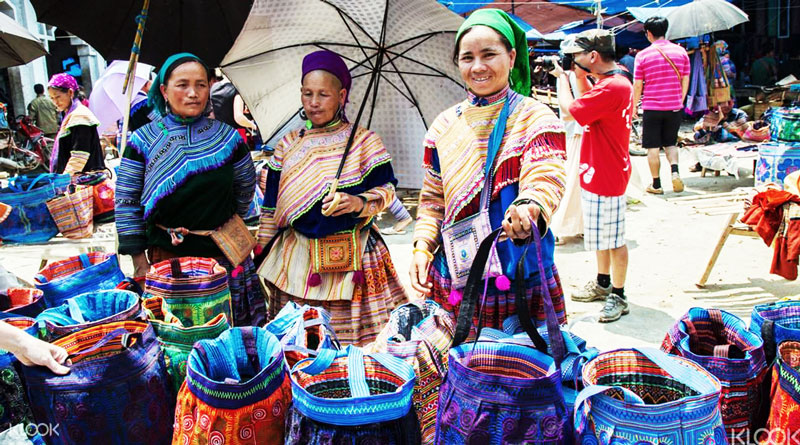 Enjoy local delicacies
Organized by many ethnic groups, the Bac Ha market is also famous for visitors because of its rich cuisine. In particular, the most famous specialty that must be mentioned is "Thang co". Traveling to Sapa, your journey will be not complete without a try of this special dish. 
Having a cup of corn wine with your friend is probably an interesting experience when coming to the Bac Ha market. Finding some other ethnic dishes in Sapa at the Bac Ha market also gives visitors a strange and familiar experience.
Spend one day discovering Bac Ha market by motorbike
A motorbike trip to Bac Ha market seems an easy-to-go choice for anyone who loves to come back to nature and wants to escape the busy city life. To make it easier for first-time visitors to the market, we have suggested the following schedule that you may need. Here's how you can make your journey begin: 
8:00: Have breakfast. Then, jump on your two-wheelers to travel about 110 km away from Sapa to Bac Ha. 
10:30 am: Arriving at the Market, you will walk around to visit the different stalls of the locals. Next, come see the horse market, buffalo market, then a unique and bustling pig market. At the Bac Ha market, feel free to enjoy ethnic dishes, special wines made from glutinous rice, cassavas, corn as well as fresh fruits such as plums, apples, pears, etc. Don't forget to buy some stunning textiles, brocades to your friends. 
12:00 pm: Have lunch at the Bac Ha market. Take some rest.
1:00 pm: If you still have time, it is great to visit the village and the house of H'Mong King- Hoang A Tuong built-in 1920 by the French colonialists and Chinese people. Take photos with unique architecture. 
4:00 pm: Get on your vehicle to go back to the town. End of your Sapa Tour – Bac Ha Market 1 Day. Have dinner and then relax in your bed. 
Now, let's sum it up,
In the middle of the bustling urban life, a relaxing trip back to nature will help you regain balance for life. With the travel experiences to the Bac Ha market that we shared above, I hope that you will get yourself the necessary information to well prepare for the next Northwestern adventure. in particular offline! We can surely say your trip will be full of exciting experiences about such a wild and majestic land that can definitely not be forgotten!