Short introduce of Da Nang
Da Nang is one of the biggest city in the Central of Vietnam. This city are very modern with many good transportation and construction like Cau Rong Bridge, Tran Thi Ly bridge, Cau Quay bridge. Almost bridge in Da Nang are very beautiful. In addition, the beach city with many wonderful beaches and mountain range that's you can discover.
There are three main districts in Da Nang – Hai Chau, Son Tra, Thanh Khe
It's not bigger like Ha Noi and Saigon, Da Nang is smaller but still beautiful by these unique. There are three mains district, it is not too big for you to get lost, you can rent a motorbike to go around the city to have a sight-seeing and enjoy the atmosphere in the beach city.
Hai Chau District is the heart of Da Nang, you can buy anything in here. There are many good accommodations and many big construction here like some of big bridge, tower. Many tourism are stay there to serve for the travelers like coffee shop, restaurants, mall, bars, big hotels. In addition, some of parks and museum are stay there also like the Asia Park with the "Sun Wheel", famous museums of Cham Sculpture, etc.
Thanh Khe District are the situated of local people with the highest population in here. There are lots of markets, supermarkets and many electronic stores. This district with the good transportation to go anywhere like the main bus and train station, near the airport also. Staying there you will enjoy the local lifestyle, far away with the tourism.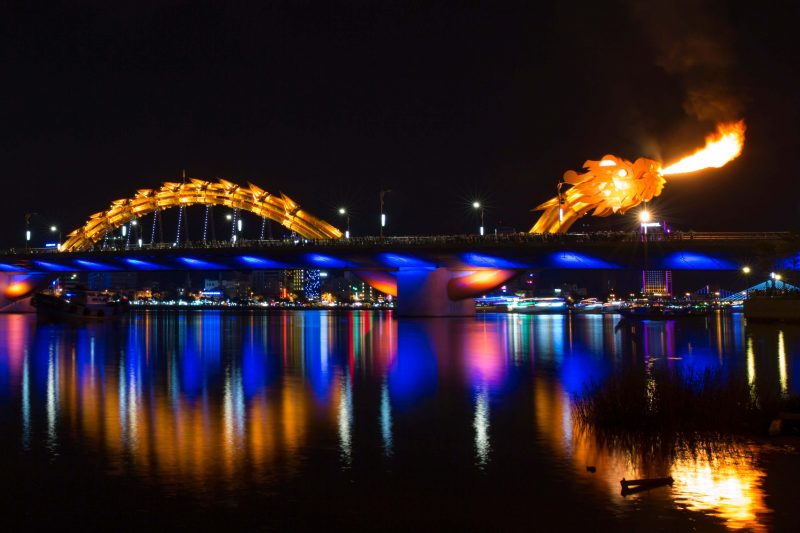 Son Tra District situated in the east city of Han river. This is a heaven for people want to relax on a sand of beach, yellow sun and mountain range with thick jungle. Not only the beach activity there, you can have a chance to go hiking on the monkey jungle with amazing things. Looking far away you can see many fish boat of fishermen or the bird come back to their home. What a peaceful place to get lost with lover.
How to go around Da Nang?
Taxi and Grab
From the airport, you can catch a taxi or Grab to go to your accommodation. There are three taxi brand that you can use in Da Nang:
Tien Sa Taxi: +84 511 379 7979
Mai Linh Taxi: +84 511 352 5252
Vinasun Taxi: +84 511 368 6868
Moreover, you can use the service of shared taxi service in Da Nang is Dichungtaxi using this app you will share the taxi with another people have the same destination. It's very convenience and save money for you. This service is one of the cheapest transportation that you can try.
Bus
If you have more time, go around the city with the bus, they will take you to the right destination with reasonable price. Just 5,000 VND you can go anywhere but disadvantage are spend lots of time to move. You can search the Google Map combine with the bus map to understand the route you go. The bus begins at 5:30 AM and stop at 4 PM.
Renting a motorbike
This is the best option for you with cheap price, you can go anywhere you want with motorbike. try to do like the local, go around with motorbike will make you feel the freedom or go far away. There are two types of motorbike in Vietnam with 2 kinds of price are scooter and automatic motorbike. The average price for hiring motorbike within one day from 90,000 VND to 150,000 VND without fuel.
If you have a plan to ride a motorbike, reading the experience on Google before riding to get some of tips or understand about the motorbike cultural in Vietnam. It's not difficult to ride, just go and get through many coastal line in Da Nang beaches are the good idea that you should try.
Le Truong motorbike rental: My Khe Beach
+84 981 331 331
Truong Dat motorbike rental: 65/86 To Hien Thanh
+84 969 722 744 or +84 969 822 844
You have to leave your ID or your passport here to get a motorbike and make sure the motorbike's safe return. Just stay on a hotel and call for them, they will bring the motorbike for you immediately.
Some place have to visit in Da Nang
My Son Sanctuary
This is the biggest Champa construction over 300 years ago. It's about 40 KM away from Da Nang city and situated in Quang Nam province. Visiting there to touch many old architecture of Cham people and understand more about the ruins and the great empire in the past.
Tra Que vegetable village
This place near Hoi An Ancient Town, come there and see the local activity of people like how they raise the vegetables, how to grow them, how to catch them, etc. You can join with them to work together and get an experience or check in and show with your friends.
Cu Lao Cham islands
This island is near Hoi An Ancient Town also. There are many wonderful beaches and golden sand with coastal line around the island. Go to the harbor and buy the ticket to visit this island. You can go to this island by the tour. They will pick you on your hotel and travel around attraction places in this islands like pagoda, visiting smaller islands include the lunch on this tour. One more thing, the seafood in there are very fresh and reasonable price. Don't forget to swim on the beach and lay down on the golden sand.
The Marble Mountains
This is Ngu Hanh Son situated in Da Nang city, after visit Hoi An Ancient Town in the morning, you can move there to go hiking and visit the pagoda in here. Ngu Hanh Son can be call "The Five Elements Mountains". Standing on the top of this mountain to have an overview of Da Nang city and the sea with the horizontal. Go hiking and visiting the mountain on this mountain to pray the peaceful for the relatives. Around this mountain, they sell lots of souvenir or gifts made by marble rocks which is the rich materials in Da Nang.
The Hai Van Pass and Truong Son Ranges
The Hai Van Pass belonged Truong Son Ranges. If you want to get challenge with yourself, ride the motorbike and get through the Hai Van Pass will bring you many amazing things. This pass is the great pass in Vietnam with many beautiful view of corner, twists and turns on the ways. Try to get through all of it, you can touch the cloud and look an eye far away to see the sea with the mountain disappear and appear suddenly. Believe us, get through this pass you will disappointed. The atmosphere there so fresh, come there and take a deep breath will make your lungs better.
The old capital Hue
Like the name of it, Hue used to be capital of Vietnam for 300 years ago. There are many old construction from the feudal of many dynasty on the past. The biggest construction are the place that the kings live is Hue Citadel. There are so big garden and still have many old things from the past. Moreover you can visit many old pagoda here like Thien Mu Pagoda or having a boat on the Perfume Rive (Song Huong). Besides, there are many local foods used to given for the King. Try to eat it if you have time.
In brief
There are almost information that you can do when you visit Da Nang. You can travel all of these place by the motorbike or the tourism and try to arrange your timetable with a suitable time to travel all of it. There are many choice for you to stay, transportation to go and the place have to visit in Da Nang.